The FOS believes that rather than relying on systems and processes, more personalised communications is the best way to tackle customer issues
The Financial Ombudsman Service (FOS) has recorded a 36% increase in complaints about insurance between April 2020 and March 2021, as published in its annual complaints data yesterday (25 May 2021).
The ombudsman received a total of 44,487 complaints between April 2020 and March 2021, in comparison to 32,637 complaints recorded in the previous year.
Leading the heightened complaints with a 91% increase is investments and pensions. Exactly 20,854 complaints were received during the report period compared to 32,637 in 2019 to 2020.
In quarter four 2020/2021, the ombudsman saw 3,027 new cases around car and motorcycle insurance, of which 27% were upheld. Similarly, of 539 new contents insurance cases, 28% of complaints were upheld.
Special event insurance, which covers weddings, also saw 94% of cases upheld.
Nausicaa Delfas, interim chief executive and chief ombudsman of the FOS, said: "The Financial Ombudsman Service continues to provide an essential service, helping people with hundreds of thousands of complaints about financial businesses last year.
"Over the past year, we have seen demand for our service increase significantly and our teams are working to provide resolutions in cases as quickly as they can."
Caring for the customer
The FOS stated that although the pandemic's impact on businesses' operations has often been unavoidable, many complaints may have been avoided with better communication.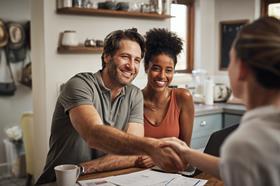 Managing customer needs effectively can help generate goodwill and pragmatism, rather than distrust and frustration, it said.
Attention to individual circumstances is also key.
According to the FCA's Financial Lives 2020 survey: the impact of coronavirus, which was published in February, more than half of the UK's 27.7m adults have characteristics of vulnerability.
Delfas continued: "The sharp increase in complaints about issues other than payment protection insurance (PPI) is a reminder that it has rarely been more important for financial businesses to support their customers when things go wrong.
"As people continue to deal with the impact of Covid-19 on their lives and finances, they know they can come to our service if they're not happy with how a financial business has treated them."
Non-PPI complaints
Excluding the number of PPI complaints, the FOS saw a 58% increase in the volume of complaints received between April 2020 and March 2021. Precisely 235,993 new non-PPI complaints were recorded in comparison to 149,315 in the previous year.
The sharp increase in non-PPI complaints has largely been driven by a 66% increase in complaints about banking and credit products.
Current accounts were the most complained about product, with 23,678 new cases.
The most complained about issue was unaffordable lending, with 57,571 new cases.
Falling under special event insurance, home credit products had the highest uphold rate in non-PPI complains, with 83% of resolved complaints being upheld.
Ombudsman Simon Coe added: "Many banking complaints go to the heart of a bank's relationship with their customer. Taking into account an individual customer's circumstances resolves most issues we see.
"Quite often we see that a bank has relied on a system or a process when picking up the phone or seeking information direct from the customer would have made all the difference in finding a personal solution to a problem that's cropped up."