A record number of entries across 18 categories have made it onto the shortlist for Insurance Times's Claims Excellence Awards this year – did your firm make the cut?
Claims is a vital component of the insurance journey, supporting customers in their time of need – the standard of entries to this year's Claims Excellence Awards, organised by Insurance Times, demonstrates just how crucial this part of the market is.
The Insurance Times Claims Excellence Awards 2021 recognises the best that the industry has to offer across the claims sector, considering everything from automation and artificial intelligence (AI) to video telematics.
A record number of companies entered this year's awards across 18 categories in total. Plus, there are a further three nomination-only categories where finalists are in contention.
Following an initial judging process, Insurance Times can now reveal its awards shortlist.
The winners will be revealed at a free virtual ceremony on 27 May 2021, after the final round of judging has been completed, further details will be confirmed soon.
The finalists are as followed:
Broker Claims Achievement Award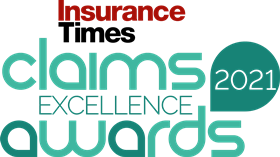 Smart Cover
Specialist Risk Insurance Solutions
Claims Product Solution of the Year – Claims Management
Entegral
Integrity Claims Management
Rightpath Claims
SBS
Sedgwick
Claims Product Solution of the Year – Corporate Advisory
DWF Law LLP
Horwich Farrelly Solicitors
Minster Law
Claims Product Solution of the Year – Motor
Arbitrate
Cazana
Keoghs, a Davies business
RightIndem
VisionTrack
Claims Product Solution of the Year – Technology
Brit Insurance
CFC Underwriting
ClaimsPlant
Insure Apps Technology
Claims Service Solution of the Year – Claims Management Company
Claims Consortium Group
Crawford & Company
Lyons Davidson
Rightpath Claims
Sedgwick and The Hunting Dynasty
Claims Service Solution of the Year – General
Direct Commercial
DWF Law LLP
Geobear, Sedgwick and Legal & General
QuestGates
Specialist Risk Insurance Solutions
Claims Service Solution of the Year – Insurer
AXA UK
Markel UK
Travelers Europe
Vetsure Pet Insurance
Claims Service Solution of the Year – Technology Supplier
Aquarium Software
Arbitrate
CAPS
ClaimsPlanet
Davies
Claims Startup
Arbitrate
FloodFlash
Qlaims
Claims Team of the Year
Brit Insurance
Clegg Gifford & Co
NPA Insurance
The Plan Group
Vetsure Pet Insurance
Claims Team of the Year – Covid Response

Beazley
Ecclesiastical
Gallagher Bassett
RSA Insurance
Specialist Risk Insurance Solutions
Claims Training Excellence Award
ARAG
Romero Group
Zurich Insurance Group
Credit Hire Solution of the Year
AX
EDAM Group
Keoghs, a Davies business
Plantec Assist
Commercial Lines Claims Excellence Award
Allianz Insurance
Aviva
Covéa Insurance
Markel UK
QBE
Customer Care Solution of the Year
AXA – Global Healthcare
Countrywide Hearing
CPP Group UK
DAC Beachcroft
Minster Law
Fraud Solution of the Year
AXA UK
Horwich Farrelly Solicitors
Pact Global
SBS
Zurich Insurance Company
Insurer Claims Achievement Award
4Paws Pet Insurance
AXA UK
CFC Underwriting
FloodFlash
Personal Lines Claims Excellence Award
Ageas
Covéa Insurance
Hiscox
LV=
Zurich
Third Party Claims Management Team of the Year
Countrywide Hearing
FMG
Kennedys
Nexus Claims
QuestGates
Claims Champion of the Year (nomination only)
Melissa Choules - senior claims technician, Hamilton Fraser Total Landlord Insurance
Billy Hinken - head of claims operations, Pen Underwriting
Claire Lashbrook - director, Claims Consortium Group
Jon Ryan - claims lead, The Plan Group
John Wood - contingency claims team lead, Beazley