Here we feature Direct Commercial's entry into Marketing Campaign of the Year – B2B
Direct Commercial entered its growth story into its entry into Marketing Campaign of the Year – B2B
What key achievement did your entry highlight?
The fact that since the creation of the team; turnover and our agency base has more than doubled, enquiry numbers are significantly up, we have a social media presence and fantastic marketing collateral which includes (but we had not previously mentioned) our DCL Exhibition Lorry and the team fleet of cars which provide brand awareness on the road to the sort of clients that would most benefit from our services, via their brokers - Haulage and Transportation businesses.
Can you share data or testimonials to back up your bid to win?
It's all in the figures. We have seen exponential growth and have laid foundations for the momentum to continue.
What sets your firm apart from the other shortlisted contenders?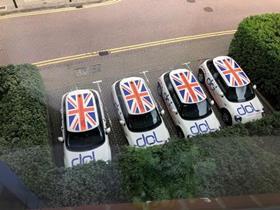 No one within the team had any marketing experience but we knew it was about making sure our message got through and if we did get it right the rest would fall into place.
Understanding your target market is the most important thing when trying to promote something and we were in the enviable position of having been in the shoes of those we were wanting to talk to.
We market to brokers but do it in such a way that brokers can use it to market to their clients.
How will you celebrate if you are the victor?
Ideally it would be seeing each other in person without having to worry and have a great meal.
The world of video conferencing will have changed how we work forever so we might have to try a meal by video.
We will certainly be delighted to shout about it in as many ways, and as often as opportunity allows.